Writing an article with grammatical or punctuation errors is the most embarrassing thing for established bloggers. I make a lot of grammatical mistakes when writing blog posts and I was able to minimize these errors with the help of free online spelling and grammar checker tools. In this article, I have shared a list of the best Free grammer and punctuation checker and corrector tools, which will help you to write error-free blog posts.
All of the punctuation and grammar checkers and analyzers listed below are free of charge and available to you whenever you need them. You can create an error-free article using proper proofreading. A single grammatical error will cause total meaning change; hence you should be very conscious about what you write.
It is very common that everyone makes mistakes but we should be able correct our mistakes with the help of theses free online spelling and grammar checker. If can use the punctuations correctly, you can decrease the ambiguity and makes your content easy to read. Most people think that they haven't made any grammatical errors, but it is good to check this is true for that you can use this best online grammar and punctuation checker
Best Grammar and Punctuation checker tools of 2022
Now we know why we want to check grammar and punctuation errors, let's see the best online grammar and punctuation checker tools of 2022.
Grammarly is by far the most popular software available for checking grammar and punctuation errors. I myself am using this tool and now I feel like I can't write blog posts without Grammarly. This tool can be used for: checking English grammar, plagiarism checking, and proofreading.It is one of the best Professional grammer checker.

I use Grammarly not only to check errors on my blog post, but also I use this tool for writing any kind of text like tweets, emails, and even for writing a Facebook status . I am somewhat good with English grammar but a bit too scared to make a mistake. I feel much more secure while using Grammarly to check my content. Grammarly is used by over 4 million users to write error-free articles.
Grammarly has a Google Chrome extension that can be used to check grammar on any page. Grammarly is the finest tool to scan your work for errors. Grammarly has a paid and free version; it is recommended that you prefer the paid version.To download Grammarly just search on google "Grammarly online" and you will be redirected to their official website
The paper rater is a great tool to check spelling and plagiarism, the best thing about this tool is that is absolutely free with great features. This is an internet website, thus no software download is required. This tool is capable of checking grammar, spelling, plagiarism, punctuation, and word voice.
This tool provides a substantially higher level of support than other free grammar and punctuation checkers available online. This tool can give an overall rating to one's writing and this is an excellent feature this way you can compare your writing skills with your friends and it will be fun. If you are a blogger then this is the best free online grammar and punctuation checker tool that can help you to write error-free quality blog posts.
This tool can be used to understand the readability score of your blog post, the readability score is very important for search engine optimization. The factors affecting the readability score are the length of each sentence, paragraph-wise division, etc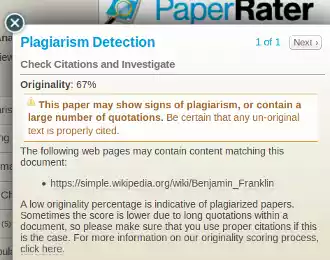 This is a product by Automattic, which means it's something special. This is a great spelling and grammar checking tool. Automattic is the company that built WordPress, the best blogging platform. After the deadline or Polish, my writing is one of the most effective methods for correcting your error-filled document.

Likewise, in the MS word all the grammatical errors will be highlighted in the green color, but it's 10 times better than MS word. All the spelling errors are highlighted in red color like the MS word. You can locate the correct versions of the errors by clicking on the words that are highlighted. This tool can understand the writing style of your text which is a great feature to correct your error document.

I strongly recommend that you take advantage of this fantastic free online spelling and grammar checker in order to raise the overall caliber of your written work.
This is a free online spelling and grammar checker tool for detecting grammatical and punctuation mistakes. This is a simple tool to check spelling, Grammar, Punctuation, and Thesaurus. Most people make a lot of mistakes while writing any kind of online text. This is the Best free grammer checker online.
Also checkout Top 10 Best Communication Tools

MS word is used to check spelling and simple grammar mistakes, but spellchecker.net has more power to check spelling mistakes. You might have experienced while you write a word that is not that often used, MS word show a red underline stating that is a spelling mistake but Spellchecker support most of the words used on the internet and can understand the meaning.
This tool can be used to fix simple grammar problems like, "These" instead of "this." I make a lot of mistakes like this I have a tendency to write "these" most of the time. This tool can be used to correct simple punctuation errors like, forgot to put semicolons to separate two clauses, etc
Whitesmoke is one of the most popular tools to check grammar and punctuation errors, this tool is used by millions of people to check their content and to correct mistakes. This is a great free online spelling and grammar checker tool, to improve your writing by finding grammatical mistakes and giving suggestions to fix those errors.

This tool can give instant results while we are typing the content into the textbox. This tool can't be used for checking plagiarism it is the only con that I was able to see in this wonderful tool. This tool is having great user interference to type down the text.

This tool is having a well-structured algorithm, which makes this tool think and correct English grammar which means it can think like an English professor. Yes, this tool can think and find out the errors in your article and it will show you how to fix the errors
Conclusion
These are the greatest free online spelling and grammar checker tools for correcting your English grammatical errors and writing an error-free quality article. These tools mentioned above are better than the rest of the tools that you can find.

I will be updating this post if I could find any better free online grammar and punctuation checker tools. I believe you found this post useful. If you have any questions, please leave them in the comments section. Don't forget to share this post using the social buttons provided below.
FAQ
How can I check my grammar for free online?
Utilize the free online grammar checker tool provided by Grammarly to improve your command of the English language by checking your writing for grammatical, spelling, and punctuation mistakes.
How do I check my grammar mistakes in word online?
Simply pressing the F7 key will get your document's spelling and grammar checked out immediately.
Is there an online spell checker?
There is indeed. Spell check isn't necessary to fix any mistakes you make. When you misspell a word, Google will highlight it for you automatically. Simply right-click on the word and select one of the suggested corrections from the context menu that appears.
Is Grammarly online free?
Grammarly's basic function, which detects most spelling and grammar mistakes, is free. However, if you want a more comprehensive version, you must pay $29.95 every month.