Before we start listing the tools, let's first explain in short the term automation. Well, simply put, automation stands for discovering a way to make a task more straightforward, especially if the mentioned task requires repetition. This process will save precious time and effort and make the entire procedure much less stressful and daunting.
So how can we relate automation to marketing? As a process, marketing entails the selling of products, services, or data. So, by employing marketing automation tools, the entire process and all the actions taken will be automated. There are many activities that the marketing and sales teams in a business do, which are repetitive and take up a lot of time.
These include sending a large number of emails, managing different types of campaigns, dealing with social media marketing, analysis, and other activities that are completed daily. Well, here is the good news. Marketing automation can simplify all these tasks and help make your entire business more profitable and successful.
This list includes ten of the best marketing automation tools and platforms that you need to know to make a well-informed decision. Once you know all the necessary details about each tool, you can go for the one that is more beneficial for the type and size of business you own. Here is the list.
HubSpot
As a marketing automation tool, HubSpot is made perfect for small and medium businesses. If you have a bigger business venture, this is probably not the best choice for you. HubSpot is a software that includes several different (and quite advanced) marketing tools that will help your teams with more than one marketing processes, activities, and tasks.
HubSpot is helpful for web analysis, social media marketing strategies for creating and designing an engaging landing page. It is also handy for content management, SEO (search engine optimization), and much more.
Another thing that makes HubSpot a great choice is the fact that it successfully captures crucial lead info and organizes all things necessary effectively and efficiently. It is a flexible tool, user-friendly, and simple to learn, use, and operate. It offers a high-quality support system, and it is the right choice for companies that are on the rise and want to improve their traffic, lead conversion, and ROI numbers.
Marketo

Marketo is probably the most widely used one of all the marketing automation tools mentioned in this list. And there are several reasons why.
It is user-friendly, and it is beneficial for both sales and marketing teams in your company. Once they start using marketo, your business will see higher numbers in sales and revenue. As a tool, it is mostly recommended for smaller and medium-sized businesses, but what makes it an excellent choice is the fact that even when you become bigger, you can still use it efficiently. It is used in larger enterprises too, and it gets the job done, no doubt there.
If you want to have an expert amongst your team members, there is a marketo education and training available to help you and your team get there. It will help your company grow and make more revenue than ever before. This tool also comes with a customer support team like no other. They go out of their way to fix any issue you may face as quickly as they possibly can. And if that wasn't enough – the report and dashboard features this tool provides do outperform most of the other automation tools mentioned on this list.
Ontraport
This brand of marketing automation tool is best for small businesses. This tool's services are email marketing, SMS marketing, CRM, online payments, and content management.
It comes with a relatively flexible campaign maker or builder, which can successfully automate several vital functions. It has different options, and it is very useful. Just remember, it is most practical for smaller sized businesses.
ActiveCampaign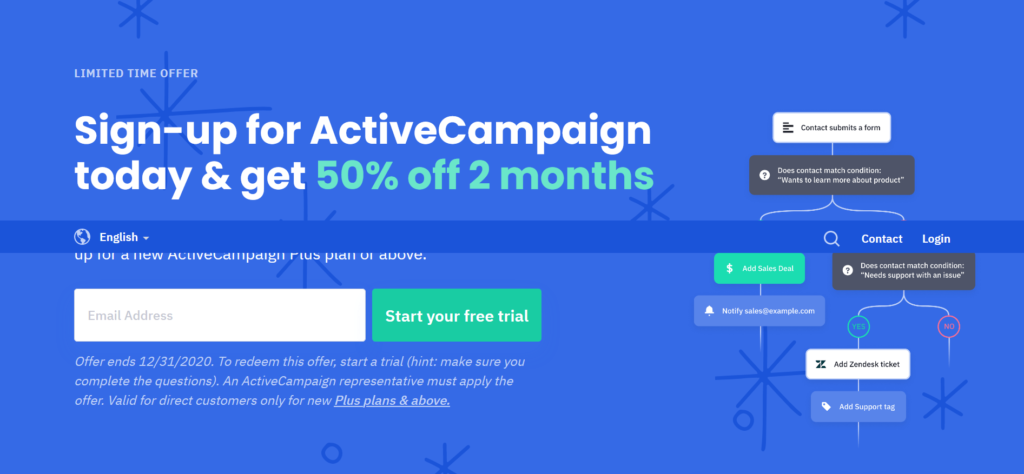 What makes this tool different from the ones mentioned above is that it is mostly recommended for businesses with contacts-driven purposes. Some of the services ActiveCampaign offers, include email marketing strategy with an included auto-response option and third-party integration. Your team can use this tool to create and send out different types of emails for different goals, activities, and campaign strategies.
Moreover, the software this tool uses can track all the activities on your website and provide analytics in real-time. It also generates customer data in a way that is easy to read, understand, and use for other purposes.
SendPulse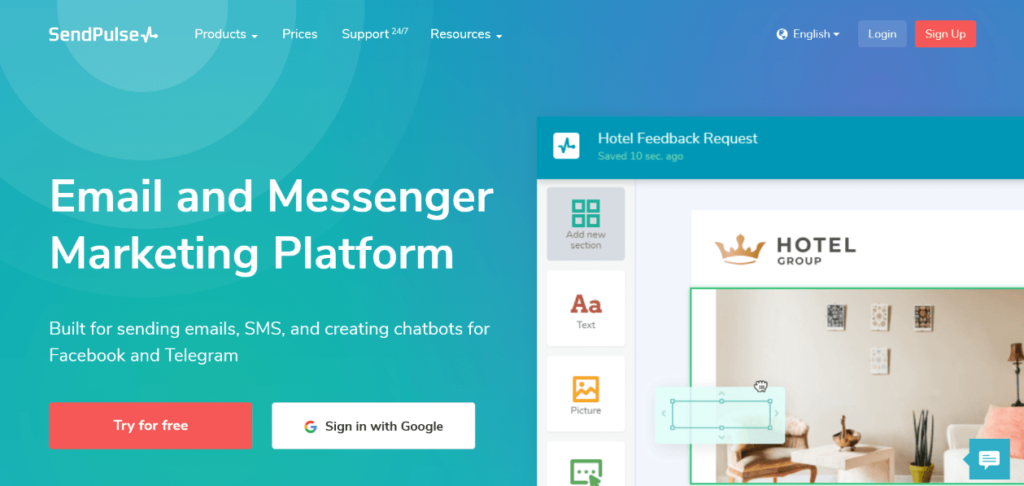 Businesses that decide to go for SendPulse will reach their customer base by using several different channels like emails, SMS, or even web push notifications. It is made for smaller and middle-sized businesses, and it comes with relatively affordable prices.
It offers the option to capture leads by employing subscription forms, and it nurtures them by using automated messages. As for features, it offers Personalization, A/B testing, and Segmentation.
Omnisend
This one is an ecommerce marketing platform that has an omnichannel approach. This platform's primary purpose is to create a seamless and almost perfect user experience using several channels to achieve that. It relies on emails, web push notifications, Facebook messenger, Google retargeting ads, SMS, and more.
The strong integration with ecommerce platforms allows your teams to collect crucial customer data regarding their shopping routines and behaviors. This means improved personalization and segmentation. Your team members won't need any special programming skills to be able to create contact forms and landing pages.
Pardot
Next comes Prdot. It is a tool made perfect for boosting your company's revenue numbers. It is simple to use, it comes with excellent services, and it offers guided assistance to create powerful and engaging campaigns.
Like the rest of the tools mentioned above, Pardot is also most recommended for small and midsize businesses in need of software that will help immensely with revenue outcomes and improve sales and marketing activities. This tool is entirely made for B2B marketers and offers support and help for B2B analysis and marketing solutions primarily based on customer accounts.
Infusionsoft
The services that Infusionsoft takes pride in include follow-up, billing processes, and contact management. Infusionsoft is an email marketing company that helps small and medium companies with their growth plans by employing useful technologies and a marketing automated platform.
What makes this tool stand out is the option for streamlining communication between your company and all the potential customers and leads. It is used for building emails, designing landing pages, and managing workflows.
LeadSquared
LeadSquared as an automated marketing software is mostly used by businesses whose primary work is connected with health, education, finance, and real estate. This type of software provides service in B2C business areas. The products and services your business offers are sold to the end customer directly.
The area where LeadSquared shines brightest is lead nurturing. It helps accelerate the moving of the leads through the funnel, and it will allow your team to set conditions, actions, and triggers for the automation of drip marketing.
Mailchimp
Last but not least comes one of the oldest email marketing tools. It is well respected, and over time it has managed to grow and become a successful marketing automation tool. Mailchimp helps businesses collate audience data, insights, and marketing-related data with the primary goal of reaching their marketing projections quicker.
You can use this tool to promote your business on social media platforms, by using email campaigns, and by employing landing pages as a marketing option. It also comes with pre-built templates that make the entire process simpler and much faster.