Microsoft has announced Windows 11, which is a significant upgrade to Windows 10. Here is everything you need to know about windows 11 release date, price, and new features.
Even though it was leaked before the official announcement, we now have more information regarding Windows 11.
Microsoft presented "the next generation of Windows" during a virtual event on Thursday, announcing major changes to the long-running operating system, including its first name change in six years. The upgrade arrives just a few weeks after Microsoft released the latest version of Windows 10, the May 2021 update (also known as version 21H1).
Windows 11 contains a slew of new capabilities, such as the ability to download and run Android apps on your Windows PC, as well as changes to Microsoft Teams, the Start menu, and the overall appearance and feel of the software, which is now more aesthetically pleasing and more Mac-like in design, among other things.
Here's what we know about Windows 11 updates so far, including the price, compatibility, release date, download instructions, new features, and more.
A new UI that is more like-Mac
Microsoft windows 11 has a modern look with rounded corners, pastel colours, and a centred Start menu and Taskbar.
Windows 11 also includes a new startup sound. Take a look at the five-second video below:
The New Start Menu
The new Windows Start menu shows in the Centre of the screen by default, but you can adjust an option to make it appear to the left. The live tiles have been replaced with simple, colorful symbols.
According to Microsoft, the menu makes use of "the cloud" to aid you by displaying important programmes and documents regardless of the device on which you were last working. Carmen Zlateff, Microsoft Partner Director of Windows User Experience, demonstrated how a document she was viewing on her phone displayed on her PC's Start menu.
In addition, Windows 11 features a redesigned Search experience, which now shows in a distinct window (no more text search bar). It's also expected to search across devices and services, as well as use Bing search for web searches.
Android app integration
Android applications will be integrated into the Windows 11 operating system and will be available for download from the new Microsoft Store via the Amazon Appstore. (Previously, you could access Android apps on Windows 10 if you owned a Samsung Galaxy phone, but this will make it native.)
Windows 11 Remembers Docking and Undocking
If you dock a tablet or laptop to an external monitor and then undock it, Windows 11 will automatically reduce the windows on the external monitor(s) when you disconnect and then restore them to the monitor when you rejoin. Those who have to carry their laptop into a conference room for a meeting and then back to their workplace when the meeting is done will appreciate this improvement much.
There is a new Microsoft Store in Windows 11.
One of the major announcements in Windows 11 is the creation of a completely new app store by Microsoft. The new Microsoft Store app has a new fluid user interface that matches the rest of Windows 11, but that's not the big news. Microsoft is modifying some of the restrictions that govern which programmes can be downloaded from the shop. The store will accept all types of apps, including those written in PWA, UWP, or Win32 formats. If you use your own commerce engine, you will not be required to give Microsoft any revenue share.If you use Microsoft's engine, the split is 85/15 for ordinary programmes and 88/12 for games.
Custom wallpaper is now available for virtual desktops.
The virtual desktop experience has been enhanced so that each desktop can now have its own background and design. This, according to Zlateff, is an excellent method to divide work from home and gaming experiences.
Introduction of Widgets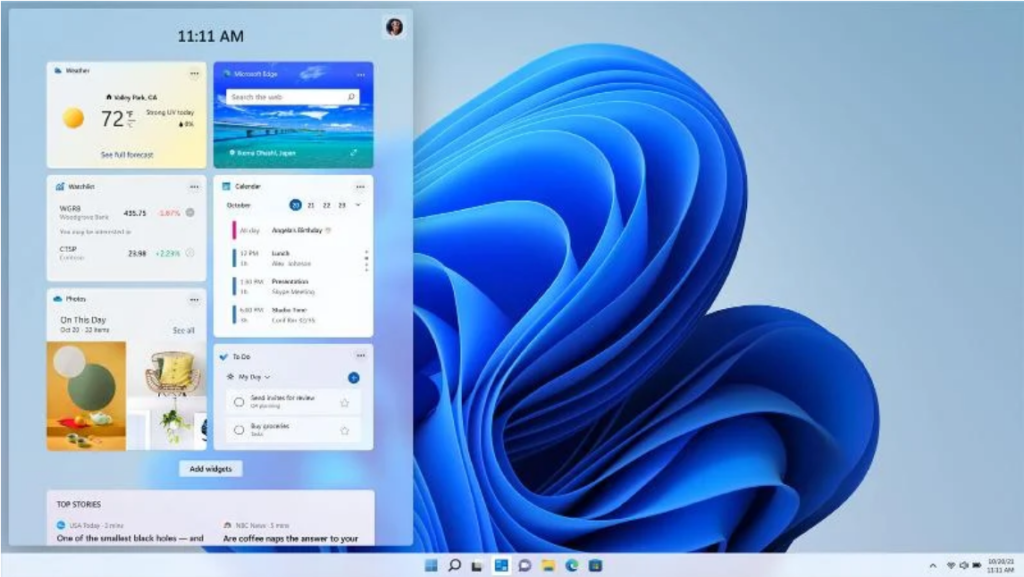 While they have existed for some time (remember Windows Vista's desktop gadgets? ),you can now access widgets straight from the Taskbar and configure them to show whatever you want.
Xbox technology for enhanced gaming.
Windows 11 will have features similar to those present on Xbox consoles, such as Auto HDR and DirectStorage, that will enhance gaming on your Windows PC.
Integration with Microsoft Teams
Teams will be redesigned and integrated directly into the Windows 11 taskbar, making it easier to use (and more similar to Apple's FaceTime). Teams will be accessible via Windows, Mac, Android, and iOS.
When will windows 11 come out?
windows 11 release date is still not finalized but it is scheduled to launch in late 2021 or early 2022. Beginning in July, Windows Insiders will be able to download preview builds.
It will begin rolling out this winter (to 'eligible' Windows 10 PCs) and will run through 2022, while Windows 10 Insiders can instal a Preview build as early as June 2021.
Microsoft has stated that it is collaborating with partners to ensure that PCs (as well as laptops and tablets) purchased today will run Windows 11.
If you're eager to try Windows 11 via the Insider Program, bear in mind that early builds often contain more faults and that the majority of consumers should avoid installing them on their primary PC.
Windows 11 system requirements
Microsoft has released the following minimum requirements:
Dual-core processor running at 1GHz, 4GB of RAM, and 64GB of storage
UEFI supports Secure Boot.
Module of the Platform with Trusted Certification (TPM) 2.0 Graphics card that supports DirectX 12 Display with a diagonal of greater than 9in and a resolution of 720p
Microsoft account + access to the internet
Will my computer be capable of running Windows 11?
Visit Windows.com and download the PC Health Check app to determine whether your current Windows 10 PC qualifies for a free Windows 11 upgrade. (We've included thorough instructions on how to utilize the PC Health Check app and the data it collects.) Additionally, if you purchase a new PC between now and the general release, you will qualify for the free upgrade.
Will Windows 11 upgrade will be free or paid?
If you already have Windows 10, you can upgrade to Windows 11 for free.