Almost all real estate agents and homeowners agree that virtual staging is an effective, reliable, and money-saving tool that many decided to trust and try. Time has shown that 3D home staging sells homes and office spaces faster and at a more profitable price. This undoubtedly makes it a marketing tool worth considering. As for their secret, well here is a start – the top 5 programs that pro 3D stagers rely on when virtually designing either a room, an office space, or an exterior. Read on for the details below.
Virtual Staging Software list
ARCHLine XP Virtual Stager
Real Tour Vision Software
VisualStager.com – A Staging Software for Mac and PC Users
3D Max Rendering & Modelling Software
Adobe Photoshop
This program was made for realtors especially. Since your primary goal is to create a buyer-friendly space, this program will help you achieve it. All realtors need to do is take a photo of the vacant room or office space, import it into a folder, and you will get a 3D version of the space. The space doesn't even have to be completely empty. The program allows for furniture pieces and accessories to be removed prior to placing the new stuff.
The interface is user-friendly, and it comes with quite a big number of options. The end result is of course a realistic 3D photo that will help realtors and homeowners in the process of staging a home for a quick sale in no time. This program allows users to change wall colors, add furniture pieces that clients would presumably like, and include décor pieces that will complete the entire image. Once it is done (and as mentioned – it will be completed in no time) the clients are ready for their virtual showcase.
Additional useful information regarding the ARCHLine XP Virtual Stager:
The subscription is pain monthly, and the amount you need to pay starts from $50;
Once you subscribe you will also get all updates and patches for the same price;
There are video tutorials available for different levels of previous experience with such programs (beginner, familiar, and expert);
There is a CAD software included that helps by providing useful tips and tricks regarding design;
Simple to master.
This type of software has almost perfectly mastered virtual touring, and it is well respected and reputable among experts in the industry. Besides that, this software also developed a do-it-yourself staging by using a 3D technology. Users are able to fill empty spaces with furniture and décor and give them life. However, the fact remains that this technology is not enough for realistic end results. It is not enough to rely only on this software for that part.
Also checkout top 10 must-have software for windows 10-2021 review
The Real Tour Vision Software is free of regular charge, and it can be accessed by using Chrome or Safari browsers. Homeowners who want a virtually staged image they pay in credits that are bought with real money. Namely, one credit is one dollar, and a single photo usually costs about 15 credits, or 15 dollars.
When it comes to popularity, it is safe to say that VirtualStager.com comes among the first three places, for sure. What makes it different from many of the other virtual staging software is the notion that it works on browsers, and users don't need to download the program. It is a computer space-saver, and it is made suitable for PC, iPad, Mac, and some other brands of tablets.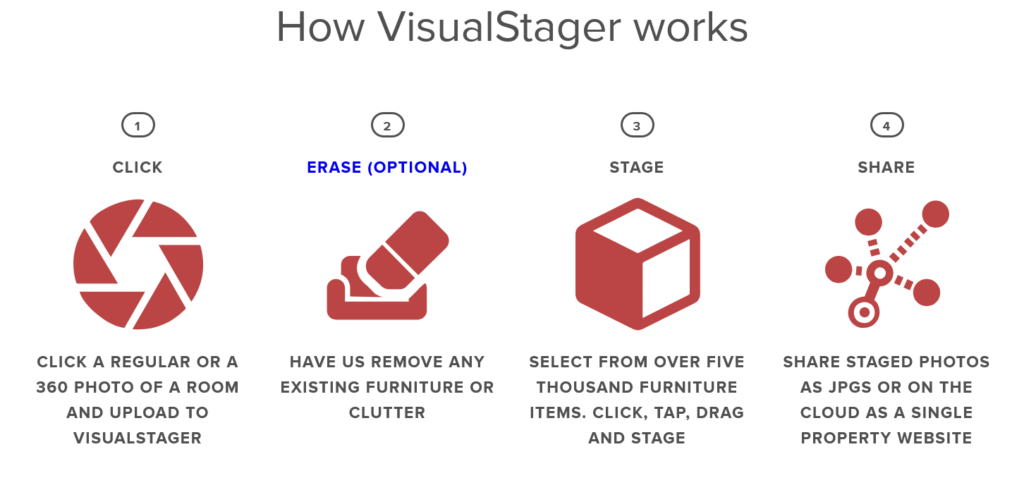 The process is quite similar with the one mentioned above – take a photo, upload it into the program, scale it, remove any unwanted items or details, and start thinking about the future design of the room or office space. Another thing that users appreciate about this type of software is the choice of pieces. There are over 2000 furniture and décor items that can be easily replaced or moved around the virtual room.
Additional useful information regarding the VirtualStager.com Software:
Users can try out the program with a free demo version. It only allows photos provided by VisualStager.com though;
Users are obliged to make the first payment the moment they decide to upload their own photo;
Pricing works with credits. You buy a bunch, and use them as you stage the photo;
Users can access interactive staging tours as well;
Users are not obliged to make monthly or yearly payments.
This virtual Staging Software is considered as a top notch instrument for creating 3D models, images, and even animation. When compared to the previous three programs that we mentioned, this one requires adequate knowledge and skills to make it work. It is primarily recommended for professional designers, or real estate agents who understand this type of technology.
Rarely who hasn't heard of the most popular graphics editor ever developed. Adobe Photoshop is used all around the world, and many have said that there isn't a better option out there. Most often professional virtual stagers use Adobe Photoshop to polish and perfect the already virtually staged rooms or offices. Users can adjust the brightness of the photo, the contrast, or correct the color enhancement.
This program is suitable for Mac and Windows users alike, and it comes with several types and sets of programs. The complete package that this company offers includes Photoshop, Illustrator, InDesign and a few others too. All these will cost you $49.99 on a monthly basis.
A Few Final Thoughts
Virtual staging is a form of art, and as such it requires a set of programs to make the final photo as flawless as possible. All the above described virtual Staging Software can do the trick. They do differ in the results – some provide more realistic images than others, some take more time to complete, and some require more knowledge and skills than others. As daunting as it may seem, things are looking up. Luckily, professional virtual stagers can prepare your home or office for you. You may find these programs difficult to master. However, these experts know their stuff and they have the necessary skills to transform a cold empty room into a beautiful homey space that will sell in no time.